Because we assist clients with the branding and marketing strategy of their Facebook Timeline for (Business) Pages, we're often asked to provide answers to some Facebook "How-to" questions. So. . .here's a quick FAQ to help you out!
Q. How do I upload a photo to my Facebook page from my iPhone?
A. Use the Facebook app on your smart phone (note: directions may vary depending on the version of the app you use and your phone, but the basic instructions will be the same):
1) Open the Facebook app
2) Tap on icon with the three lines at the top of the app window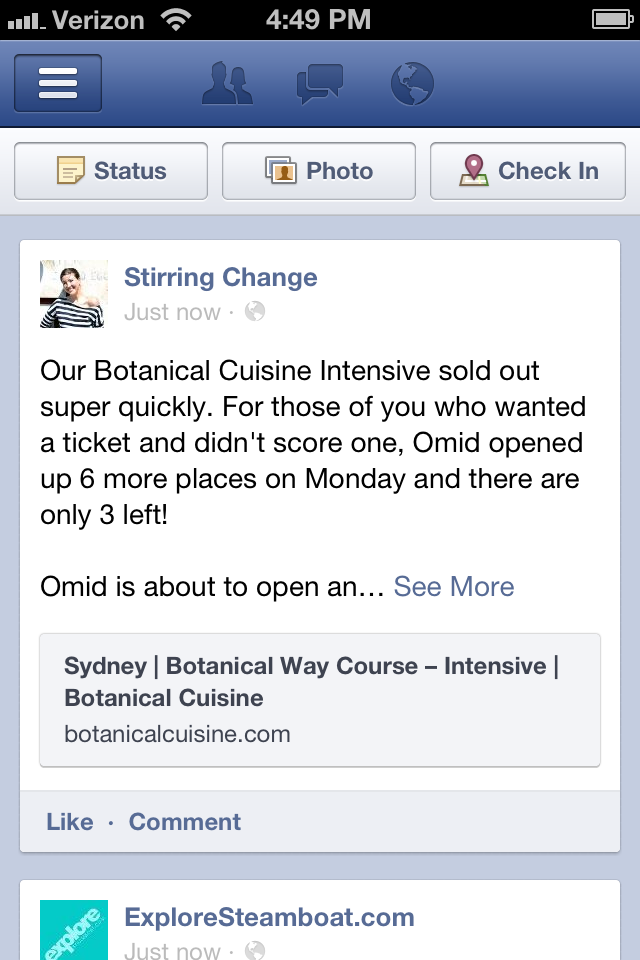 3) Scroll down until you see your page name listed under "PAGES". Tap on your page name. Now you'll be using Facebook as your page.
4) Return to the wall page in the app.
5) To take a picture, simply tap on "Share Photo".
6) Select either "Take Photo or Video" or if you already have a photo you want to upload, tap instead on "Choose from Library".
5) Tap on the words "Write a caption" if you want to include a caption, then type in the box
6) Tap on the "Done" button when you're done writing a caption
7) Tap on the "Upload" button to post your photo and caption
Q. How do I invite my friends to like my business page?
A. On your admin screen, click on the Build Audience tab, then scroll down to "Invite Friends".
Follow the instructions from there. Here's a helpful step-by-step tutorial:
https://www.facebook.com/notes/natalie-alaimo/how-to-invite-facebook-friends-to-like-your-facebook-timeline-page/348087591915895
Q. Can I friend (or Like) a profile from my business page?
A. In a word, No. Facebook is set up so that profile pages (personal pages) and business pages are kept separate. From your business page, you can like other business pages. And individuals can like your business page. But you cannot like individuals as a business page. That's just how it's set up!
Q. How to I upload multiple photos at once to my Facebook page?
A. Click on the box under your cover photo and next to the "About" that says "Photos" beneath it. Once you've done that, click on the "Add photos" button in the upper right corner of screen that appears. Browse your computer and hold down the shift key to open multiple photos. Give each photo a caption and title as indicated for the best results, then save your changes.
Q. How do I change the photo that displays in the "Photos" box below my cover photo?
A. That box always shows the most recent photo you uploaded. So, to change the photo that's being displayed, upload a new photo. If it's a photo you've uploaded in the past, try deleting the original and uploading it again so it displays in the photo window. You can always select to hide the upload from your timeline if you don't want people to see the mechanics of this; the photo will display whether or not you hide your wall post.
Q. How to I add a Pinterest app to my Facebook page?
A. To add a Pinterest tab (in a box that appear under your cover photo):
Log in to your Facebook Page
Visit the app page: https://www.facebook.com/dialog/pagetab?app_id=305927716147259&next=http%3A%2F%2Foffertabs.com%2Futil%2Finstalltabreturn%2F305927716147259
Select your page name from the pull down menu and click the "Add Page Tab" button
Click the "Authorize Page Tab" button
Enter your Pinterest page name in the box provided
Adjust the other settings as needed, then click the green "Save Settings" button to finalize.
Have any additional Facebook for Pages questions? Comment here or send your questions to info@themixcreative.com, and we'll update this post with more Q and A. Thanks!